Lee Van Cleef Meerschaum Pipe handcarved by CPW Meerschaum Pipes #46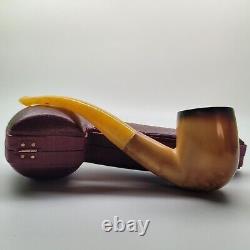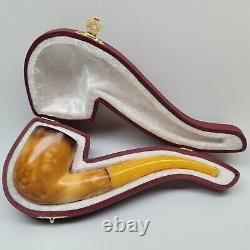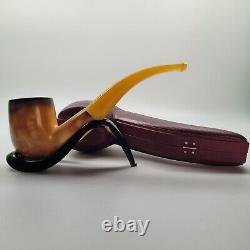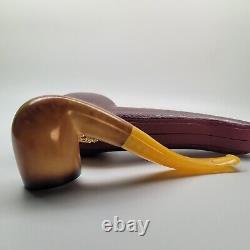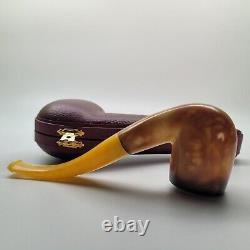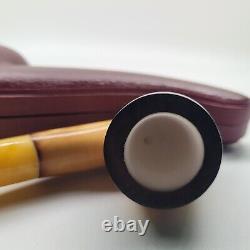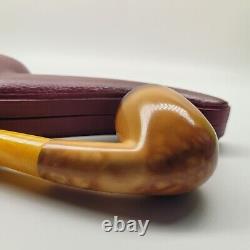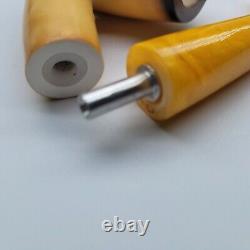 WE CARVE FROM THE LIGHTEST, THE MOST POROUS, THE HIGHEST GRADE BLOCK MEERSCHAUM THAT COMES DIRECTLY FROM OUR OWN MEERSCHAUM MINING SHAFTS. In the movie For a Few Dollars More, Colonel Douglas Mortimer (Lee Van Cleef) is frequently seen smoking a bent Meerschaum which has stunning Patina and amber coloured, lucite stem. The pipe is hand made and under goes a repeated bees wax and heat treatment for the aged look. No two pipes look the same and over time will colour from the shank towards the bowl. The Acrylic stem is fitted with a long screw tenon which should be fitted and removed slowly, with care.
Supplied in hand made hard case, ideal for storage and keeping the pipe clean and safe, while smoking away from home. Length : 14.30 cm / 5.63 inches. Height : 5.20 cm / 2.05 inches. Width : 3.50 cm / 1.38 inches. 0 cm / 0.79 inches.
Bowl Depth : 4.30 cm 1.69 inches. HANDCARVED- Our meerschaum pipes handcarved from the highest Grade BLOCK meerschaum that comes directly from our own meerschaum mining shaft.
PREMIUM CRAFTSMANSHIP - Each pipe has been handcarved from the highest grade block meerschaum to give you the highest quality and most pleasurable smoking experience. COOL, CLEAN SMOKE - Providing a dry, flavorful smoke. A CLASSIC - CPW Calabash Meerschaum pipes has been producing made-in-Turkey, gold-standard quality meerschaum pipes and calabash pipes since 1994. REVIVING THE OLD WORLD CHARM - A great gift for a husband or father.
Every customer is important to us.